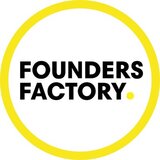 Studio Program Coordinator
👋 Hey, We're Founders Factory
Founders Factory powers founders to go further, faster. We partner with the world's best founders and corporates to build, fund and scale ambitious startups worldwide.
💪The Opportunity
As we scale the Founders Factory model across new sectors and internationally we are seeking an enthusiastic, self-starter to help us manage the Studio program. This role will sit at the centre of our Studio operations, supporting the ventures and their founders. You'll be responsible for the administrative duties, operations and the reporting for the program. You will be working closely with our Chief Studio Officer and Sector Directors to help execute the program, as well as working closely with our product, technical, & design teams to coordinate & track support. This is an amazing opportunity with high visibility and responsibility as you work side by side with the Founders and operations team to help build and scale early stage businesses.
💪 Responsibilities
You will be responsible for the day to day running of the Studio
You will coordinate our programs from conception through to spin out
Manage the scheduling and coordination of meetings and document notes and outputs alongside the Sector Directors
Facilitating workshops for studio ventures, including concept teardowns, pre and post team kick offs, halfway retrospectives and end of build retrospectives
Attend all studio venture fortnightly meetings, make sure they're well prepared for, share advice and guidance based on previous learnings from other studio ventures
Together with the Chief Studio Officer understand the critical needs of our ventures and set objectives for how we can best support those teams
Collect feedback and learnings that allow us to improve and iterate on our offering and support
Responsible for maintaining, tracking and reporting on studio ventures; ensuring everyone across the organisation is up-to-date and has the data they need to make decisions
Maintain data collection that allows automatic reporting on ventures within program and the current health of the studio
Working with Chief Studio Officer to manage, track and iterate on Studio objectives
Own the model test framework. Help to define, deliver and measure future ways of working
Ensuring founder leverage the support of our operations team during their time in the studio
Support the onboarding of new founders
Document process, structure, insights & playbooks to support our continued expansion
🎯 Requirements
Be structured, process oriented, and data focused. Enjoy bringing order to ambiguous systems through data, documentation & reporting
Be driven to understand early-stage tech startups
Have experience in project management or administrative roles
Be very comfortable with spreadsheets (ideally Google Sheets)
Understand and be able to talk about digital product development, possibly having an understanding of what makes a great product. From design, technology and growth
Have exceptional communication and interpersonal skills, both written and verbal
Have high emotional intelligence and empathy for founders and their team as well as for your fellow colleagues in the founders factory operations team
Confident and energetic personality
Execution focused, detail oriented, takes ownership and loves solving problems.
High self-directed with an ability to get a lot done with sometimes limited direction
This role would suit a recent university graduate or someone with between 1 and 3 years experience - who wants to work in a fast paced tech environment.
📈 Benefits
We provide all the excitement and freedom of an early stage startup but with the stability and resources of a large organisation. This is your rare chance to contribute across the full business spectrum to become a founder in the future:
Growth: Work with and meet exceptional talent. Learn faster than you ever have before. Access our large network of investors and customers.
Autonomy: Freedom to execute, build businesses, not just products.
Health and Wellness: Comprehensive extended health care coverage from Vitality and mental health counseling with InsideOut.
Office and Remote: Desk space in fully-serviced office in High Street Ken and all the kit you need to work from home.
Perks: Free lunch once a month, healthy snacks, freshly ground coffee and Paul's Irish Bar.
We are committed to building a diverse culture and are eager to receive applications from all backgrounds. All applicants will receive consideration for employment without discrimination.
Please note: we have an overwhelming number of applications and will do our best to get back to you within one week if you fit the bill.