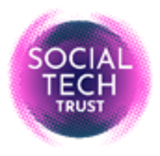 Investment Analyst/ Researcher
Investment Analyst/ Researcher
Role type: 3 months UK based contract
Location: Home-based.
Salary: up to £30,000 pro rata. We encourage flexible work opportunities including homeworking, and flexi-hours.
About Social Tech Trust
Social Tech Trust is at an exciting stage. With a clear purpose to transform lives with tech, an expert team, supportive Board, and a strong portfolio of social tech start-ups, we're ready to scale our impact. Our vision is a world where social transformation is the driving force behind tech. We've already invested more than £31m in almost 800 socially motivated initiatives over the last twelve years.
About this role
This is a rare opportunity to assist in fundraising for a new early-stage Social Tech Ventures Fund which supports social tech entrepreneurs in their efforts towards creating a more equal, inclusive and empowered society.
We are seeking an individual with understanding of the investment sector who is motivated to address societal inequalities through tech for a research project to build an understanding and map of social impact investors. This project is for an initial 3 months.
Key Areas of Research
Funding landscape and key social investment funders, such as Trusts and Foundations, Corporates and Family Offices.
Identify and analyse data in support of the investment narrative and strategy.
Compiling and analysing venture data to inform our model.
Providing information to support our pitch deck and marketing materials.
Identifying potential partners that could accelerate our work.
Key skills and experience
Independent thinker able to manage their own workload with demonstrable ability to deliver to brief, under time pressure.
Strong written and presentation skills with an ability to identify and present relevant information clearly and succinctly.
Previous work/ internship experience in investment or financial sector is highly desirable.
Forward-planner capable of prioritising
Enthusiastic with a strong desire for social impact and transformation.
Financial modelling experience or Excel proficiency would be considered an asset.
This is an exciting short-term opportunity to contribute to our social investment fundraise at a pivotal time for our organisation.
This role would suit a highly motivated individual with understanding of the investment sector, keen to gain experience of working in social impact and early-stage VCs.
How to apply
To apply for the role, please send your CV and a short email or recording answering the two questions:
Tell us how would you go about finding investors for a new venture capital fund? (max. 500 words).
Write an introduction email to a potential investor in the fund that would incite positive response (max. 250 words).
Finally, please ensure that you have included a contact telephone number.
If you think you could be a good fit for this role, we would love to hear from you. Even if you're not sure you have the right experience, you can always get in touch and have a chat with one of us.
Applications should be submitted to Sutin Yang sutin.yang@socialtechtrust.org. Add the title of the role that you are applying for in the subject line of your email.
Please note that we will be reviewing applications and carrying out interviews on a rolling basis. Once a suitable candidate had been identified we will close the recruitment process so please don't delay your application if this role is of interest.
Commitment to Equality, Diversity and Inclusion
The Trust embraces diversity, and we want to diversify our team in terms of skills, background and life experience. We welcome all applications and particularly those from individuals from racially diverse backgrounds and people with a disability as they are currently under-represented on our team. We also welcome applications from individuals who reflect the wide range of socio-economic backgrounds in the UK and are especially interested to talk to those that can bring lived experience of social challenges to the team.
For any questions related to the role, please contact hello@socialtechtrust.org